UK metallers Asking Alexandria have been on a bit of a wild ride lately with the introduction of a new singer in Denis Stoff after original singer Danny Worsnop departed early last year. The band wrote and recorded a new album titled "The Black" that touches on the feelings of what the band went through during that period as well as a range of other things so we sat down and chatted to founding member and guitarist Ben Bruce about having a new singer in the band as well as their upcoming tour to Australia as headliners.
Andrew: Are you on tour at the moment?

Ben: No I'm in L.A. actually shooting a movie. We actually go back out on the road in about 2 weeks, straight to Australia!

Andrew: Yeah that's right! That's the first thing we should talk about, your upcoming headlining tour in Australia. When was the last time you were in Australia?

Ben: The last time we were in Australia was for Soundwave about 2 years ago so it's been a little while.

Andrew: I suppose you have probably heard that Soundwave is no longer around anymore.

Ben: I know! It's funny actually, we got offered a spot on Soundwave for this year and we were like, 'Na, we don't want to do it. We're going to do a headliner instead', and then it got cancelled so we made the right choice!

Andrew: [laughs] Yeah so how was your previous experience at Soundwave?

Ben: Honestly we loved it. I'm actually a little bit gutted that the festival is not going on anymore because it was a lot of fun. The first time we ever went to Australia was with Soundwave, we went back again with Amity (Affliction) but then we also returned for a third time with Soundwave again. It's never anything but a really good time, it's just a bunch of friends travelling around Australia togther so it's a shame that it's finished but maybe it will be back at some point, who knows?

Andrew: Yeah hopefully. This time around you are headlining around the country, what can the fans expect this time around?

Ben: Well this is actually our first tour, period that we will be doing on new album "The Black" so obviously we will be debuting a lot of songs live in Australia in this run. Australia is obviously not our home, it's not where we are from but we've always felt really at home over there and we love going over there so it's really nice for us to be able to head over there fresh on a brand new cycle and be able to play some songs for the first time ever in a country that we love touring so much.

Andrew: Is the new album going to be the focus as far as the setlist is concerned? Will you be playing more of the newer stuff than the older stuff?

Ben: Oh no it will be like an even spread. We're going to play all the old songs from "Stand Up And Scream" and "Reckless And Relentless" and some from "From Death To Destiny". Obviously we're going to play a bunch of new songs as well so it will be a nice even spread.

Andrew: Tell me a little about the new album "The Black" which is coming out in a few days time. This is the first time that Danny (Worsnop, ex-vocalist) is not part of an album so how was that whole process with the new singer?

Ben: It was actually awesome, we had a really good time. For the last few years of Danny being in the band, things actually got really difficult, even getting him into the studio to record vocals was a huge nightmare. So this time around everyone was excited to be there, everyone was stoked to be in the studio and work together as a team. Denis (Stoff, vocalist) was just so excited to be recording his first album with us, he put so much effort in and it was just a lot more fun than we've had in the studio for years now and I definitely think that shows as well when you listen to the album. Just the effort we put into it, you can tell just by listening to it.

Andrew: How was the dynamics as far as coming up with material and going through the recording process? Obviously the dynamics have changed but how was it doing that whole thing with Denis?

Ben: It was good, it was easy. It's really weird, it's like he's always belonged in this band. It wasn't like something we had to get used to or anything like that, it just felt very natural and right off the bat we felt right with him.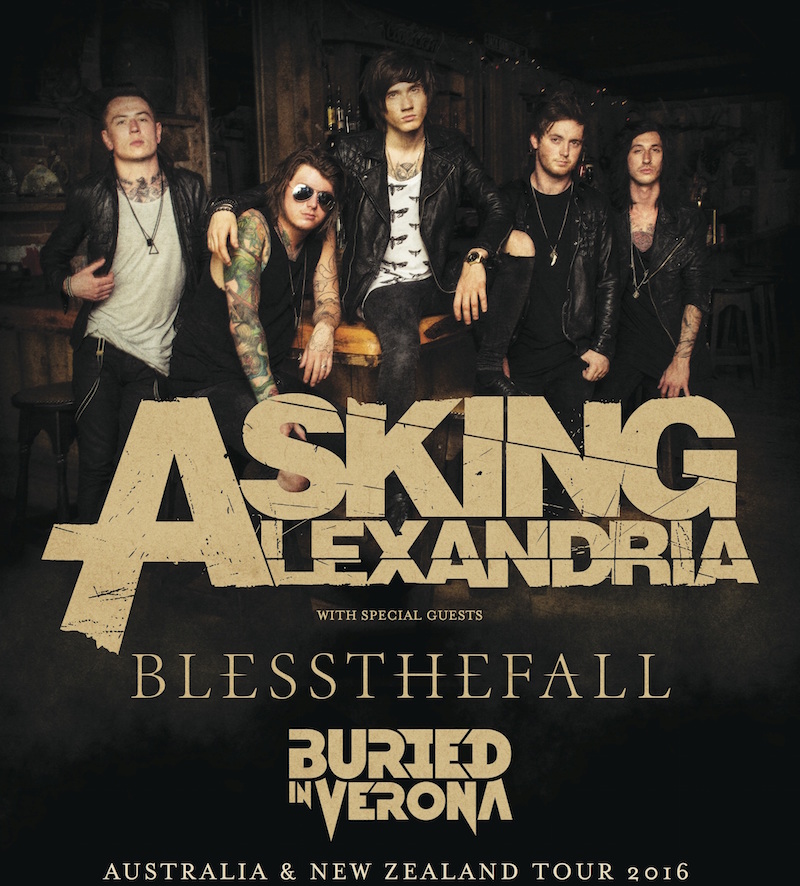 Andrew: It's an interesting story how Denis became part of the band, where did you find him and how did he initially join the band?

Ben: We actually heard of Denis a few years ago. People send us links like, 'Check out this killer youtube video covering your bands songs, he's really good' and that's cool and we used to joke around with Danny like, 'Oh you better watch out, someone will take your place!' Fast forward 4 years later and here he is.

Andrew: Yeah it's interesting as that's almost unheard of because essentially he was a fan of the band wasn't he?

Ben: Yeah!

Andrew: Most fans dream of becoming part of their favorite band and this guy actually did it. What was it about him that you really liked that you wanted him to be part of the band?

Ben: He just had an incredible voice, incredible range, incredible dynamics and stuff. We met him a few times as well because he was in previous bands before. He opened up for us with his band when we played in Russia for the first time and we met him at a few festivals in the States with his old band so we already knew he was a pretty cool and down to earth guy and obviously the fact that he's an incredible vocalist. It was weird, it was like intuition, just a gut feeling that this was the guy that we had to go with. I can't really explain why or how we knew but it just was something there telling us, yeah this is the kid.

Andrew: And what was it like performing with him live on stage?

Ben: It's amazing actually! We hadn't really rehearsed or hung out that much before we even hit the stage together but I think the first show we did together, we headlined a festival in Austria I believe and there was 30 thousand people there. Before we went on stage it was like, 'Fuck, what's going to happen? Are they going to bottle us off the stage because they miss our old vocalist? Is he going to be booed off stage? What the hell is going to happen?' But everyone was just excited, everyone welcomed him with open arms. It was good for us as we spent the last few years touring with a vocalist that didn't give a shit anymore so we lost all drive and all passion for touring because it was a nightmare being up on stage with someone like that who didn't give a shit and when Denis came along, here's this young kid who is stoked to be up there and he's smiling. You look over to him and he's got a huge smile on his face and he's energetic, he's giving it a hundred percent and that gave all of us a kick in the arse and it was like I remember why we loved doing this so much. So it really just gave us a lot more energy and just made us feel a lot more youthful and really enjoy what we're doing again.

Andrew: When Danny announced his departure from the band, was there any moment where you thought you could not continue on or did you always think you would move on without him?

Ben: Oh not even for a second did we think of stopping. This is our dream, it's what we love doing and there was nothing that was going to hold us back. We knew it would be tough and challenging and we were prepared to get back up but there was no reason, especially in our minds that we can't continue.

Andrew: That must have been a big relief for the fans because obviously a lot of fans were wondering if or how the band would continue on without the original singer because that is obviously a drastic change for a band.

Ben: Well yeah, I mean the fact that we've been able to do it and the fact that we haven't really even missed a beat. If anything, I think not only are we all much happier now as a band but I think the fans are actually much happier because we're all there, we're all happy, we're all giving it a hundred percent and we're all enjoying what we do again. I think the fans really see that and can really connect to that and it gives them hope too, to not just give up on your dreams and to work hard for what you love and what you do with it.

Andrew: It must have felt a little anxious I suppose waiting to hear what the fans would say about the new singer because obviously a new singer changes a lot about the band. Were you a little scared about what people might think or say about him?

Ben: I wasn't scared, I was prepared for a lot of people to not like it and to get backlash. We had that in the back of our mind, we were just thinking that we were gonna do this because we love it and give it a hundred percent like we always do and if people don't like it, well then that's a real shame. We'll have to work hard to gain them back as fans and what have you but thankfully, I would say about 95 percent of our fanbase was completely supportive of us and we haven't really experienced much backlash which is amazing to us.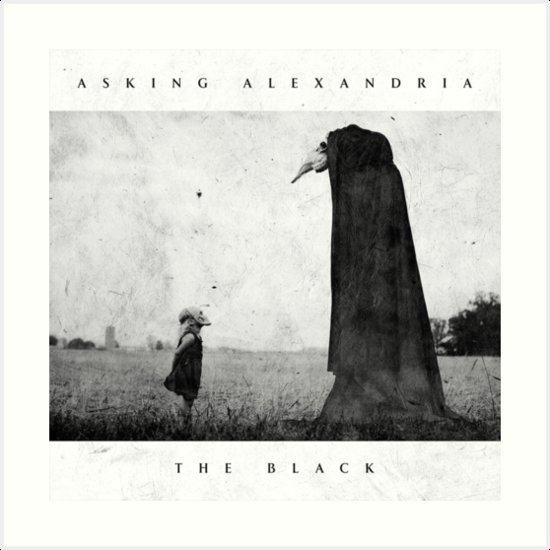 Andrew: Did Denis have much of a creative side as far as coming up with new material and new ideas and things like that?

Ben: Oh yeah Denis loves writing man, which again is nice because Danny never really wanted to get involved. But Denis loves this band as much as we do and he loves writing and creating music as much as I do in particular so he's always very hands on and always very eager to show his ideas and help be part of the creative process.

Andrew: Well looking at the tracklist for "The Black", it seems pretty obvious to some people that a lot of the inspiration for the songs was maybe the departure of Danny. Is that true to say or was there other factors involved in there as well?

Ben: There was a lot of factors, again me being the primary song writer, I try to write as honest and true to what I'm feeling or have been through as I possibly can. It just so happens that I went through a lot of shit over the last few years, Danny left the band, my best friend died, my wife left me. So I had a lot of shit to get off my chest so there's a lot of stuff in the record that people will assume is about Danny when in actual fact, it's not. Definitely there are parts of the record that are about Danny and his departure because it did hurt me and it did leave an impact but there's definitely a lot more to it than just that.

Andrew: There's a song on the album called "Just A Slave To Rock N' Roll" which captures your drive in wanting to be in a band. Is that one of the songs that you think maybe captures a lot of how you guys feel about Asking Alexandria?

Ben: Yeah I mean "Just A Slave To Rock N' Roll" for us is just one of those songs, we live a crazy lifestyle and we try to live it to the full extent and have as much fun as we possibly can as a band and "Just A Slave To Rock N' Roll" is just one of those songs. It's another side of our personality where we do like to go out and have fun and we do like to experience something where we possibly can so it's a song about us basically, having a blast together.

Andrew: How did you get into music in the first place?

Ben: I don't know, it's hard to say. My family is quite a musical family, I grew up with a tenor in my grandparents house and my Mum's uncle is a very famous brass band conductor in the UK, or he was when he was alive so it's just kind of been in my blood. My Dad was a huge fan of music and played the blues and stuff so it was a no-brainer really. My Mum said when I was a kid, I used to stand in front of the television when I was 3 or 4 years old watching Grease, holding a tennis racquet and a piece of string pretending that it was a guitar and just jamming.

Andrew: Who was your favorite guitar player? Who was it that made you pick up the guitar in the first place?

Ben: Again it's really hard to say because my Dad was a huge blues guy and so I was listening to a lot of people like Eric Clapton and Gary Moore, B.B. King so I had a soft spot for the blues and so I looked up to a lot of those guitarists. But at the same time, my step-dad was a huge classic rock fan like Deep Purple and stuff like that and then I eventually got into thrash so there really was just a whole mixture of things. I just fell in love with the guitar from a very young age.

Andrew: Well obviously Asking Alexandria is a very guitar driven kind of band so it shows through. Congratulations on the new album, I hope the fans all dig it out there and look forward to seeing you guys in Australia in April. Thanks for your time today, it's really appreciated.

Ben: Hey anytime man, thank you so much!


ASKING ALEXANDRIA AUSTRALIA & NEW ZEALAND TOUR 2016:

05 April - Powerstation Auckland, NZ
07 April - 170 Russell, Melbourne, VIC
08 April - 170 Russell, Melbourne, VIC
09 April - The Met Brisbane Brisbane, QLD
10 April - HQ Complex Adelaide, SA
13 April - Astor Theatre Perth Perth, WA
15 April - UNSW Roundhouse Sydney, NSW

Tickets and tour details can be found at Live Nation.

__________________________________________________
Interview by Andrew "Schizodeluxe" Massie on March 24th 2016 (The Rock Pit)